Professional Furniture Lifter Tool Set
Ergonomic design, so easily lift and move your heavy furniture and appliances, one-hand operation, easy assembly, no tools needed.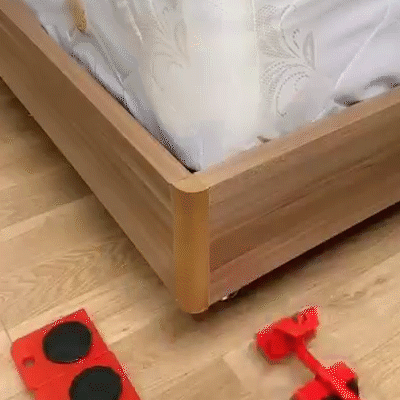 Multifunction: Suitable for use on hardwood floors, and carpets, convenient to move sofas, bookcases, tables, chairs, beds, pianos, refrigerators, cabinets, and more.
Portable & protective: Great tools to lift heavy objects, move & rearranging the office, furniture, and appliances without any damage. Protective panels won't damage furniture.

Furniture lifter kit: A toolset to easily redesign and rearrange living space. The set includes 1 furniture lifter and 4 mover pad sliders.
Safety: 360-degree rotatable pads make furniture legs, and appliance feet hold securely. Great for sofas, bookcases, tables, chairs, beds, refrigerators, etc.

Bear: It can bear 100 kg/220Lbs, so you can easily move heavy furniture or appliances.

High quality: Made of durable steel, PVC plastic spraying handle with anti-slip design. The 4-pack wheel rollers are made of ABS plastic, durable, and impact resistant.

How to Use:
1. Put the lifter under to furniture and then lift it up
2. Place 4 rollers into the 4 corners.
3. Remove the furniture lifter and move your furniture by the mover pad sliders.

PRODUCT SPECIFICATIONS:
Color: red/yellow/blue/
Lifter length: 345mm
Single roller size: 79.8*105.8mm
Main material: ABS+steel+PS+PVC
Product weight: 1200g
Maximum capacity (per piece): 200kg/440 lb
Scope of application: sofa, bed, bookcase, refrigerator, washing machine/dryer
Note:
The color of the actual product could differ from the pictures. Every monitor or mobile display can display colors differently, and each person may perceive those colors differently. The hue of a photograph can also be influenced by the lighting situation at the moment the photo was taken.

PACKAGE INCLUDES:
1 x Lifter
4 x Mover pad sliders